Pickleball Court Rental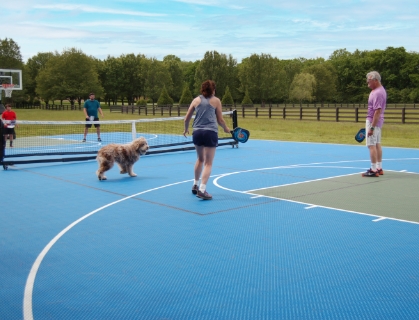 Pickleball continues to grow in popularity throughout the United States. RGES provides portable rental and ready-to-purchase pickleball courts. With three interlocking tiles to choose from, these portable pickleball courts were designed with unmatched durability and superior grip. As a suspended playing surface, our pickleball court rentals provide forgiveness for players knees, joints and lower back. For indoor and outdoor applications, work with the RGES team to build the perfect portable pickleball court for your next event.
Customizable Pickleball Court Floor
Customize a pickleball court floor with specific artwork or logos. Each interlocking pickleball court tile offers the ability to customize with special branding. RG Event Surfaces has worked with different brands for customized special event sport court flooring. Check out the custom court designs we have created for special events.